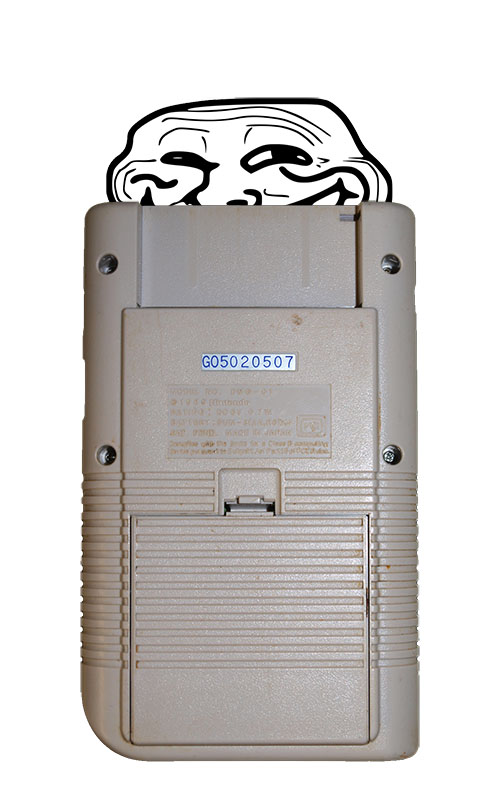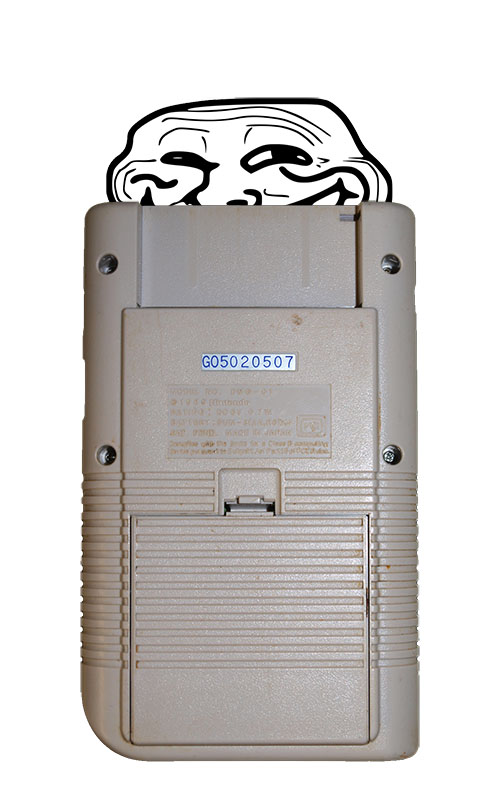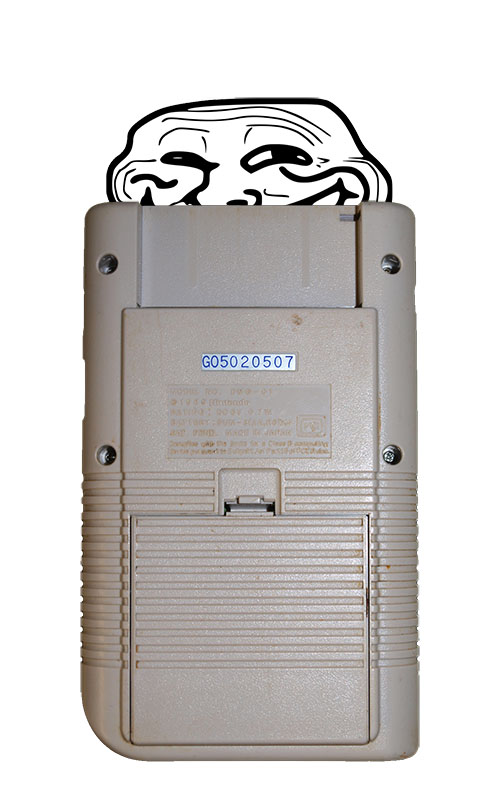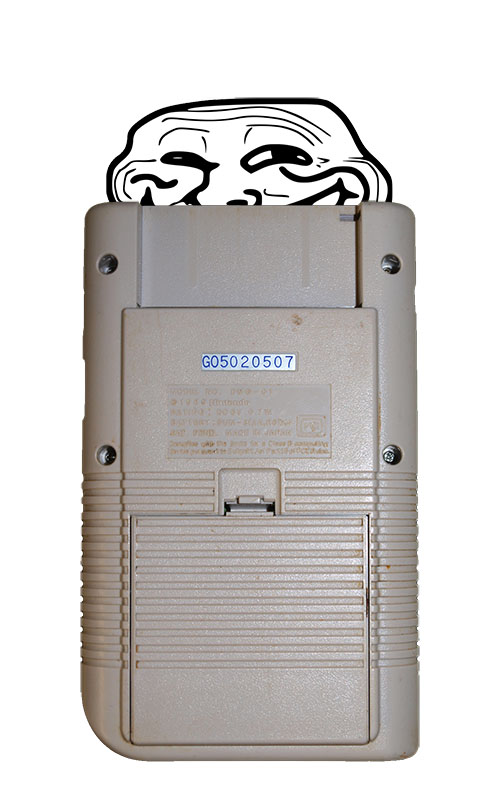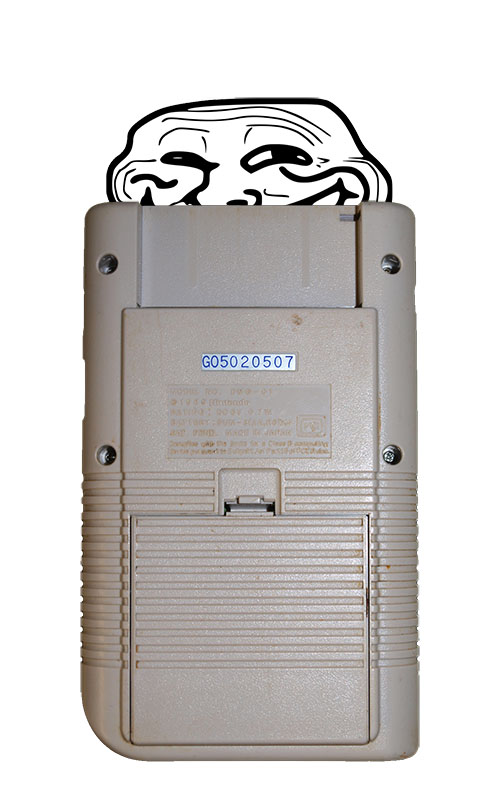 Index
GB means original Game Boy (ie the grey carts), GBC means Game Boy Colour (ie the black carts), GBH means hybrid GB/GBC and GBA means Game Boy Advance. I won't differentiate for Game Boy carts with SGB support, as I'm lazy and that might be helpful. Who knows, maybe I will, read the reviews, if I ever write them.
Older Reviews
I wrote these at least, what, 6-7 years ago?
GB Adventures of Lolo
GB The Incredible Crash Dummies
GB Mickey's Dangerous Chase
Gb Quarth
GB Snoopy's Magic Show
GB Solar Striker
GBC Pokemon Trading Card Game

Games I Currently Own
I'll write reviews for these as inspiration strikes, at least I hope to.

Game Boy
Aerostar DMG-AE-AUS
Alien 3 DMG-L3-AUS
Alleyway DMG-AW-AUS
Alleyway DMG-AWA (Japanese)
Arcade Classic 1 Asteroids/Missile Command DMG-AMCP-UKV
Arcade Classic 2 Centipede/Millipede DMG-ACPP-AUS
Arcade Classic 3 Galaga/Galaxian DMG-AGCP-AUS
Arcade Classic 4 Defender/Joust DMG-ADJE-USA
Baseball DMG-BSA (Japanese)
Battle Arena Toshinden DMG-ATDE-USA
Blades of Steel DMG-UB-AUS
Bomber Boy DMG-HBA (Japanese)
Bubble Bobble DMG-B2-AUS
Chase HQ DMG-HQ-USA
Daedalian Opus DMG-PU-USA
Desert Strike: Return to the Gulf DMG-ADSP-AUS
Disney's Darkwing Duck DMG-DC-AUS
Disney's Jungle Book DMG-J7-AUS
Disney's The Lion King DMG-ALNP-AUS-1
Disney's Pinocchio DMG-ACGP-AUS
Disney's Toy Story DMG-AQHP-AUS
Double Dragon DMG-DD-USA
Double Dragon DMG-DDA (Japanese)
Dr Mario DMG-VU-AUS
F1 Boy DMG-FBJ (Japanese)
F1 Race DMG-F1A (Japanese)
F1 Race DMG-F1-AUS
Fist of the North Star DMG-HK-USA
Fortified Zone DMG-IY-UKV
Game and Watch Gallery DMG-AGAE-USA
Game Boy Gallery 5 Games In 1 DMG-AGGA-UKV
Gargoyle's Quest DMG-RA-USA
Golf DMG-GOA (Japanese)
Hiryu No Ken Gaiden DMG-HRJ (Japanese)
Jurassic Park Part 2: The Chaos Continues DMG-A2JE-USA
Killer Instinct DMG-AKLP-AUS
Kirby no Kira Kira Kizzu (Kirby's Star Stacker) DMG-ACKJ-JPN (Japanese)
Klax DMG-KLA (Japanese) * no Japanese whatsoever, the ROM is probably the same as a US release, I bet. Lazy sods.
Mario and Yoshi DMG-YO-AUS
Mr. Do! DMG-M4-USA
Nemesis DMG-NM-USA
Nemesis DMG-NMA (Japanese)
Operation C DMG-CN-USA
Pac In Time DMG-APTP-AUS
Paperboy DMG-MP-USA
Parodius DMG-PVJ (Japanese)
Probotector DMG-CN-AUS
Puzzle Bobble GB DMG-AGPJ-JPN (Japanese)
Racing Damashii DMG-RDJ (Japanese) * only the title screen is in Japanese, the rest is English.
Q-Billion DMG-QBA (Japanese)
Qix DMG-QX-USA
Quarth DMG-QRJ (Japanese)
SD Command Gundam G-Arms DMG-GAJ (Japanese)
SD Gundam: SD Sengokuden Kuni Nusiri Monogatari DMG-SDJ (Japanese)
SD Gundam: SD Sengokuden 2 - Tenka Touitsuhen DMG-G3J (Japanese)
SD Gundam Gaiden: Lacroan Heroes DMG-LHJ (Japanese)
Solomon's Club DMG-SC-USA
Space Invaders DMG-SP-USA-1
Spanky's Quest DMG-LM-USA
Sports Illustrated Kids The Ultimate Triple Dare! DMG-U8-USA
Super James Pond DMG-JD-UKV
Super Star Wars Return of the Jedi DMG-ARJP-EUR
T2 The Arcade Game DMG-AV-USA
Tennis DMG-TNA (Japanese)
Tetris DMG-TR-AUS
Tetris Blast DMG-ASBP-AUS
Tetris Plus DMG-ATRP-EUR
Tiny Toon Adventures: Babs' Big Break DMG-TX-UKV
Twinbee Da! (Pop 'n Twinbee) (Japanese) DMG-TDJ
Wario Blast featuring Bomberman DMG-EE-AUS
Yakuman DMG-MJJ (Japanese)

Game Boy Colour
GBC 8 in 1 Color 8B-002 (Sachen)
GBC 8 in 1 Color 8B-003 (Sachen)
GBC Austin Powers: Welcome To My Underground Lair CGB-BEAE-USA
GBC Bionic Commando Elite Forces CGB-AV4P-AUS
GBC Buffy the Vampire Slayer CGB-BVSP-EUR
GBH Bust A Move 4 DMG-AA4P-AUS
GBH Conker's Pocket Tales DMG-ACRP-AUS
GBC Dave Mirra Freestyle BMX CGB-BMXP-EUR
GBC Dinosaur'us
GBH Dragon Quest Monsters DMG-AWQE-USA
GBH Grand Theft Auto DMG-AOAP-EUR
GBH Holy Magic Century DMG-AQTP-EUR
GBC Indiana Jones and the Infernal Machine GCB-BIJP-EUR
GBH Konami GB Collection Vol. 1 DMG-AF5P-EUR
GBH Konami GB Collection Vol. 2 DMG-AF6P-EUR
GBC Looney Tunes Collector: Martian Revenge! CGB-BLAP-UKV
GBC Marble Madness CGB-ANNE-USA
GBH Pocket Bomberman DMG-AKQP-AUS
GBC Pokemon Puzzle Challenge CGB-BPNU-AUS
GBH Pokemon Trading Card Game
GBH Quest for Camelot DMG-ACNU-AUS
GBH Rampage World Tour DMG-ARPE-USA
GBC Rampage 2 Universal Tour CGB-AUTP-EUR
GBH Shadowgate Classic DMG-ASWP-AUS
GBC Shaun Palmer's Pro Snowboarder CGB-B3SP-AUS
GBC Space Invasion / Karate Joe
GBH Space Station Silicon Valley DMG-AV2P-EUR
GBC Spider-Man CGB-BSEP-AUS
GBH Tamagotchi 2 DMG-AT3J-JPN (Japanese)
GBC Taxi 3 CGB-BXIF-FRA
GBC Turok Rage Wars CGB-AR7P-EUR
GBC Worms Armageddon CGB-AWUP-UKV

Game Boy Advance
2 in 1: Columns Crown and Chu Chu Rocket AGB-BW9P-EUR
2 in 1: Scooby Doo Cyber Chase and Scooby Doo Mystery Manor AGB-BCVP-EUR
2 in 1: SpongeBob Square Pants SuperSponge and SBSP Battle for Bikini Bottom AGB-BSZP-UKV
Backyard Hockey AGB-BYHE-USA
Blender Bros AGB-ABRE-USA
Bratz AGB-A2RE-USA
Camp Lazlo Leaky Lake Games AGB-BLCE-USA
Chessmaster AGB-ACYE-USA
Dark Arena AGB-ADAE-USA
Drake and Josh AGB-AJYE-USA
Driver 2 Advance AGB-ADUE-USA
Ecks v Sever AGB-AESE-USA
Frogger's Adventures: Temple of the Frog AGB-AFRE-USA
Gunstar Super Heroes AGB-BHGE-USA
Lego Knights Kingdom AGB-BKNP-EUR
Lizzie McGuire 3 Homecoming Havoc AGB-BL3E-USA
Madagascar: Operation Penguin AGB-8M7P-UKV
Mary Kate and Ashley Sweet 16 Licensed to Drive AGB-AAYE-USA
Need for Speed: Carbon AGB-BN7P-EUR
Operation Armored Liberty AGB-BAAE-USA
Pinobee Wings of Adventure AGB-AG8P-EUR
Phalanx AGB-APXP-EUR
Planet Monsters AGB-APME-USA (damaged label)
Pokemon Emerald AGB-BPEP-AUS
Popeye Rush for Spinach AGB-APDP-EUR
The Proud Family AGB-BD7E-USA
Razor Freestyle Scooter AGB-ARFE-USA
Robots AGB-BRTP-EUR
Spyro Fusion AGB-BSTP-EUR
Star Wars Trilogy: Apprentice of the Force AGB-BCKP-EUR
Strike Force Hydra AGB-AFHE-USA
Super Monkey Ball Jr AGB-ALUP-EUR
Teenage Mutant Ninja Turtles Double Pack (Konami - TMNT and TMNT 2 Battle Nexus) AGB-BT8P-EUR
Tiger Woods PGA Tour Golf AGB-AT5P-UKV
Tony Hawk's American Sk8land AGB-8H9P-UKV
V-Rally 3 AGB-AVRP-UKV
WWF Road to WrestleMania AGB-AWFP-EUR

Bootlegs and Hardware
GB Elite World Cup multicart
Blue Gameboy Camera MGB-006
GB New 32 in 1 (Mickey Mouse)
GB/GBC/GBH Action Replay Pro
GBA Astro Boy Omega Factor
GBA Bratz Diamondz
GBA Cho Makaimura R (Super Ghouls and Ghosts)
GBA Ford Racing 3
GBA Hello Kitty Happy Party Pals
GBA The Incredible Hulk
GBA Madagascar (with an entertaining bootleg 'manual')
GBA Pokemon FireRed
GBA Pokemon LeafGreen
GBA Space Channel 5: Ulala's Cosmic Attack
GBC Super Robot Wars F Final (Chinese) - unlicenced, but an original game, based on the Saturn version.
GBC "Test Drive Cycles" which is actually Test Drive Le Mans
GBA YuGiOh Worldwide Edition Stairway to the Destined Duel