Elite World Cup GB 32 in 1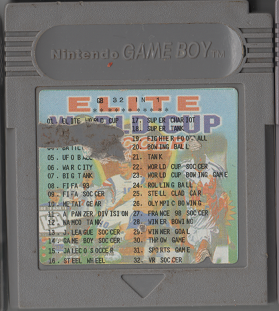 bootleg
multicart


Yet another in a seemingly infinite supply of variations of multicart for the Game Boy consoles. This one is styled "Elite World Cup", and like most multicarts, it says it has X games, and it actually has (X - most of X) games instead. In this case, a 32 in 1 cart with four unique games.

What do you get on this cart?
` The menu displays as "SUPER UT GAME 32" with 12 games a screen (and 8 on the third), and you can scroll through the list, pressing Start on the game you want to play.

01. ELITE SOCCER - "Elite Soccer" by Gametek, developed by Denton Designs, of C64 fame.
02. WORLD BOWING - "World Bowling" by Romstar, which I happen to like because it includes Canada in the "world"
03. SOCCER MANIA - "Soccer Mania" by Sony Imagesoft, which is a really ugly, flickery mess. I don't know if that's because it's on a bootleg cart, or if it's because the original game was shit, however.
04. BATTLE CITY - "Battle City" by Namco, developed by Nova. The classic go-to game for most NES/FC/GB pirate multicarts, probably because it's small.
...and here come the repeats.
05. UFO BALL
06. WAR CITY
07. BIG TANK
08. FIFA 94
09. FIFA SOCCER
10. METAL GEAR
11. PANZER DIVISION
12. NAMCO TANK
13. JLEAGUE SOCCER
14. GAMEBOY SOCCER
15. GAMETEK SOCCER
16. STEEL WHEEL
17. SUPER CHARIOT
18. SUPER TANK
19. FIGHTER FOOTBALL
20. BOWING BALL
21. TANK
22. WORLD CUP SOCCE
23. WORLDCUP BOWING
24. ROLLING BALL
25. STELL CLAD CAR
26. OLYMPIC BOWING
27. FRANCE 98 SOCCE
28. WINNER BOWING
29. WINNER GOAL
30. THROW GAME
31. SPORTS GAME
32. VR SOCCER
None of the repeats have anything special about them, like starting on different levels or trainers, etc, it's just linking back to the same game. I'll leave which of the titles link to which games as a mental exercise for the reader. Personally, I wish I was as cool as the bootlegger who came up with "SPORTS GAME" and "STEEL WHEEL", and I'm mildly curious why they couldn't spell bowling to save their lives.